Automatic liner insert cutting and sewing machine
Fully Automatic Inserting-Cutting-Sewing machine's liner can be fully sewn with PP Woven Bag. Liner also can be not sewn / loose inside PP Woven Bag.Without inserting liner, the machine can process for normal Cutting-Sewing function.Saving Manpower Hugely.With Excellance Quality & Stable Performance.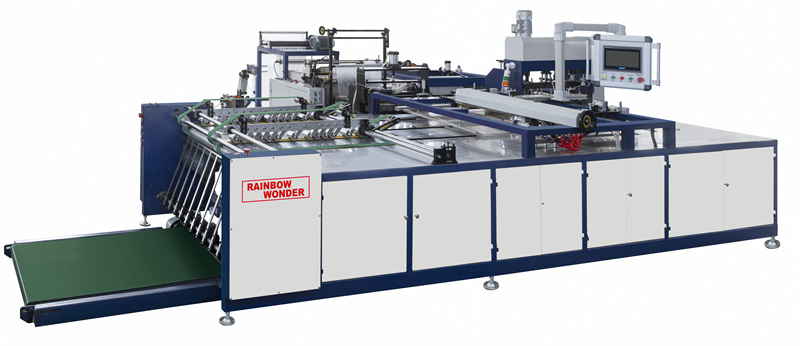 Technical parameters
1. The maximum diameter of cloth drum is 1200mm
2. Bag cutting length 700-1200mm
3. Bag cutting width 400-700mm
4. Bag cutting accuracy ± 1mm
5. PE film length > outer bag 30mm
6. PE film thickness ≥ 0.01mm
7. Folding width of bag bottom 18-25mm
8. Flanging accuracy ± 2mm
9. Sewing machine pin width 7-12mm
10. Production capacity 25-35pcs / min
11. Installed capacity (excluding heating power) 10kw
12. Heating power 2kw
13. Air consumption: 0.9m3/min
14. Size 7450 * 5100 * 1400
15. Weight 3.5t

Production capacity depends on the quality of the used cloth roll, the specification of the final product and the proficiency of the operator.
Technical parameters of qtf-750 woven bag full self cutting and sleeve sewing machine
Equipment features:
1. Electrical part: it adopts the advanced electrical control system of foreign countries, with high degree of automation, few faults and low maintenance rate.
2. Unwinding part: pneumatic automatic rewinding and photoelectric automatic tracking correction are adopted.
3. Color mark tracking: imported color mark electric eye tracking is adopted, which is suitable for woven bags after continuous printing.
4. Cutting part: heating cutter, double rubbing mouth and servo motor are used to control the cold cutter blade.
5. Servo meter is used for bag feeding to make the cutting more accurate.
6. Turning part: the machine adopts servo motor to control the mechanical device, which solves the deviation when the woven bag of the sewing machine turns, makes the woven bag feed into the sewing machine more accurately, sews the bag bottom more standard, and reduces the defective rate.
7 sets of film part: adopt the servo motor to calculate the length of the film to make the cutting more accurate. Cutting, ironing and film forming at one time.
8. Sewing part: the upper cover industrial sewing machine is used, with higher efficiency.
9. The whole machine has unified speed regulation, one key start of unwinding, cutting, film feeding, film covering, conveying and sewing, simple and convenient operation adjustment and specification replacement.

Device details
I. unwinding part:
1. Pneumatic feeding and unwinding parts can be adjusted left and right automatically.
2. The maximum diameter of rolling cloth is 1200mm.
3. Adopt photoelectric automatic deviation correction device.
4. Unwinding traction motor: 0.75KW frequency conversion control motor for automatic speed control.

2. Cut off part:
1. The hot knife is made of 4Cr5MoSiV tool steel, which is not deformed by high temperature heating.
2. The cold cutting servo motor controls the cold blade. The blade runs fast, which greatly increases the service life of the blade.

3. The servo motor is used to control the length of the bag to make the cutting accuracy ± 1mm.
4. Two way automatic cloth rubbing device, easy to open the bag mouth.
5. Adopt Panasonic color mark eye, which is suitable for the whole volume printing of woven bags.


III. turning part:
1. The vacuum suction nozzle is controlled by servo motor to accurately deliver the woven bag to each station.
2. The double opening positioning rubbing device is used to ensure the double opening of the bag bottom and the complete membrane cover.

IV. membrane cutting:

1. Servo motor is used to control the length of cutting film to make the cutting accuracy ± 2mm. Use sharp steel knife, durable.
2. Automatic film covering mechanism

V. sewing part:
1. The upper cover industrial sewing machine is used.
2. The suture needle distance is 7-12mm.
3. It is equipped with two sets of edge folding devices, single folding and double folding, with an accuracy of ± 2mm.
4. Drive motor 0.75kw, frequency conversion control.

Vi. bag collection system:

1. It adopts the form of copy type bag collection.
2. Automatic bag coding: 50 or 100.
3. Automatic counting.


Configuration list of main electrical components and main pneumatic components of the
QTF-750 Cut over sewing machine
| | | | | |
| --- | --- | --- | --- | --- |
| Serial number | Name | Model | Quantity | Remark |
| 1. | Sewing machine | | 1 | Shang Peng |
| 2. | servo motor | ECMA-E21315RS | 3 | Delta |
| 3. | servo motor | ECMA-E21310RS | 1 | Delta |
| 4. | Frequency converter | VFD007EL43 | 5 | Delta |
| 5. | PLC | FX5U-64M | 1 | Mitsubishi |
| 6. | Human machine interface (touch screen) | MT-6103 | 1 | Weinview |
| 7. | Thermostat | PEX4 | 2 | Fuji |
| 8. | Photoelectric switch | | 6 | Merck |
| 9. | Circuit breaker | D32/3P | 1 | Schneider |
| 10. | Circuit breaker | D10/3P | 1 | Schneider |
| 11. | Circuit breaker | D6/3P | 3 | Schneider |
| 12. | Circuit breaker | D10/2P | 2 | Schneider |
| 13. | Circuit breaker | D10/2P | 2 | Schneider |
| 14. | Circuit breaker | C16/1P | 2 | Schneider |
| 15. | Circuit breaker | C6/1P | 2 | Schneider |
| 16. | AC contactor | LC1-E3210N/220V | 1 | Schneider |
| 17. | AC contactor | LC1-D1210N/220V | 3 | Schneider |
| 18. | AC contactor | LC1-D0910N/220V | 1 | Schneider |
| 19. | Intermediate relay | RXM2LB2BD | 4 | Schneider |
| 20. | Sensor | | 2 | Panasonic |
| 21. | Air Cylinder | MAL32×30-CA | 2 | AirTAC |
| 22. | Air Cylinder | SC63×80S | 1 | AirTAC |
| 23. | Air Cylinder | SC63×50S | 1 | AirTAC |
| 24. | Air Cylinder | TCL40*50S | 1 | AirTAC |
| 25. | Air Cylinder | TCL20*50S | 3 | AirTAC |
| 26. | Solenoid valve | 4V230 | 2 | AirTAC |
| 27. | Solenoid valve | 4V210 | 18 | AirTAC |